The sun had finally calmed her glare on earth and disappearing far behind the horizon. I set out for the market to get some foodstuff, all well arranged in a small fancy basket which Papa brought from Onitsha. On my way back I saw my friends, Nkiru and Adaora, both chattering away like the birds from the sorrounding trees. Their chattering centered on Ngozi, the stranger in our village who had suddenly won the heart of the Prince. Both of them, like other maidens, were not pleased. They thought the prince should have instead sought his mistress from a royal family or at least from our village. There are many beautiful princesses, the daughters of the high chiefs.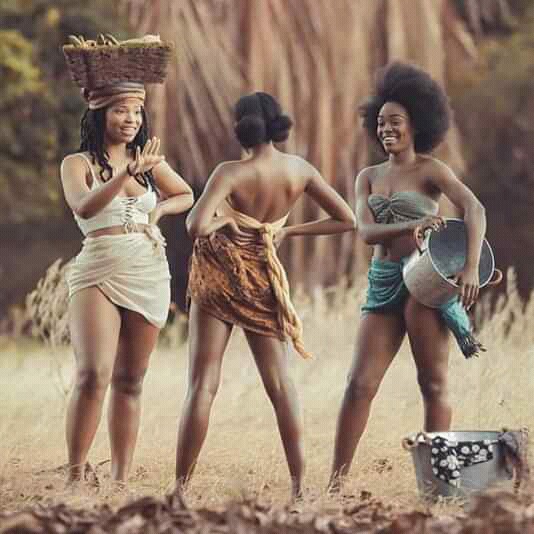 Nkiru was in fact sashaying like a model, a self appraisal thing, while comparing herself to Ngozi. Shapeless pig, she called her. Both were so engrossed in their conversation that I had to clear my throat to announce my presence behind them.
Nkiru, on seeing me, quickly dropped her basin and flung herself at me like a suspicious mother-hen. She's always behaving like a mother-hen, a restless thing. She was asking why I had gone to the market without informing her despite that I promised so. We'd always been going to the market together, but I couldn't wait for her to finish fetching water. Mama was complaining. This was exactly what I was telling her but she cut me short.
"Oh, Ifeoma, abeg leave that one. You no see Ngozi today?"
I was puzzled, "Ngozi. Wetin be my business with Ngozi."
"Haha. You need to see her. She don dey wear beads o. Like play, like play, she don dey claim princess be that o. Wonder shall never end in this village. That 'mbe' from no where. I hear say her Mama na winsh. I am not surprised sha. She must have given her daughter something to charm my prince."
"Your prince, you said?"
"Yes na."
"Look at you," I said, laughing, stretching my hand to emphasize that she's no match for the prince either. "You sef wan marry the prince."
"Wetin do me. Ngozi fine pass me?" She said, clearly unperturbed by my teasing. Instead she pushed out her chest, how she would always pose if she's eager to hear your response mostly in the middle of a gossip such as this.
"No, I haven't said that. I just think you deserve the Igwe. What can the prince offer a goddess like you. Omalicha'nwa."
"Ifeomaaaa" Adaora called my name in another fit of laughter. She's been laughing all the while knowing that I loved teasing Nkiru. She's my childhood friend and no amount of prank or teasing could harm any of us anymore. We had outgrown those things long ago. We had quarelled so many times till we knew each other inside-out. Nkiru was actually not bad like I painted her. She's pretty ando had a nice shape and a polished chocolate skin.
Submit your image to ajenifujaadetokunbo@yahoo.com to have your picture interpreted into a fantastic story. Follow on twitter @tokst_ar